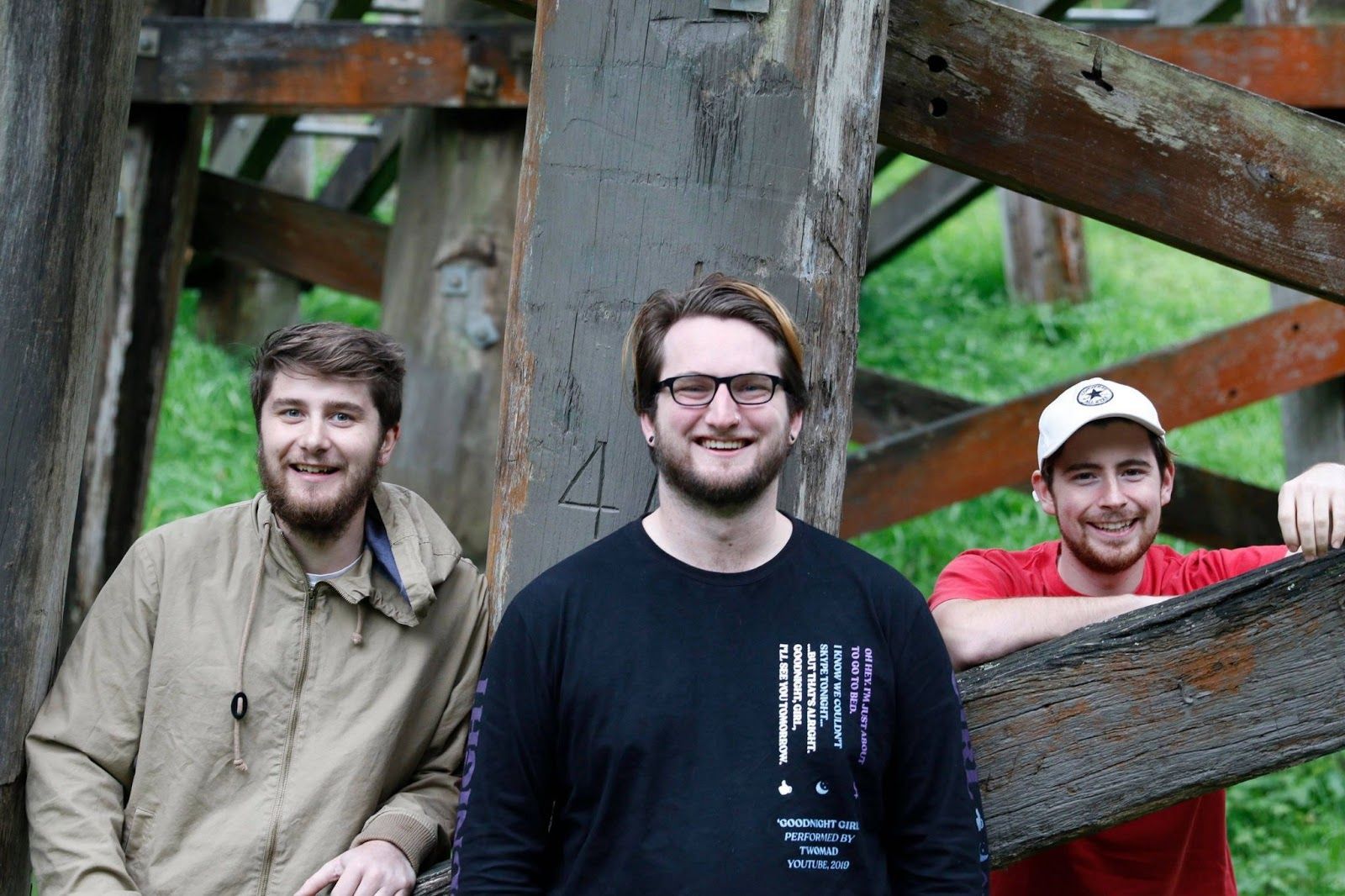 Good News Everyone are a relatively new band out of Melbourne. The band have two EP's under their belt, the latest one 'All I Have Is Memories' being mixed and mastered by Jaime Preciado from Pierce The Veil. I caught up with Jordan, Alex and Adam for a chat about the band. 
You guys are relatively new! 
Jordan: Yes we are. We are two EP's deep. 
And you're in Melbourne? 
Jordan: Yeah we are out of Melbourne. 
Are you guys in the lock down zone? 
Adam: I haven't really been paying to much attention because I'm essential. I think technically the lock down has just ended but there are still pretty heavy restrictions. 
Jordan: We were going to have a little party for the EP coming out but that didn't pan out with the lock downs. We were just going to have a few drinks with some friends but we couldn't even do that. 
Your new EP 'All I Have Are Memories' came out last week. How did that go with all the covid shit? 
Jordan: Like we were saying we were supposed to have a party for it which didn't happen. But the response that we have been getting from it seems to be pretty good, we are getting a lot of good feedback. We haven't even played a show as a band so its really hard to see exactly how it's going. 
How did you guys come together? 
Jordan: I think this band probably started with Adam and I after our first band broke up when we were like 17 or something.  We were kicking around ideas for ages, flash forward three years or something, and I was talking to Alex while we were getting dinner somewhere. I think I was telling him stories about gigs and stuff and Alex goes 'Oh yeah I used to play drums!' Mind you I have known Alex since we were like 14 and we are 20 at this point!!! I was like how have you not told me that??? 
And drummers are really hard to find! 
Jordan: Exactly!! That was the problem, we couldn't find a drummer. So we asked if he wanted to play in a band with us. We did our first EP, Identity, in July last year, that was all recorded in my garage. We released our single 'I'm Not Emo, I'm Just Sad' about three months later I think? 
Adam: Yeah something like that. 
Jordan: Yeah it was. I remember scrolling through Instagram and I saw a post from Jaime Preciado, the bass player of Pierce The Veil, saying he was doing mixing and mastering for bands. I thought I wonder if he would do anything for us. I was just like I'll throw it out there, I had a song I was working on. Without telling Adam or Alex I sent an email off to him. Within two hours I got an email back saying, 'Yeah man send me over the tracks, let's do it'. I was freaking out, thinking shit!! So we sent him those and we were really happy with how it turned out, we put that out in October. We were writing, we had some songs kicking around and then in January of this year we picked the demos that we wanted to turn into songs for the EP. Reached out to Jaime again and he was like yep lets do it again. I was like sick this is really cool! He did them all for us and that is the EP 'All I Have Are Memories' that we have just put out. It's been good fun but its been unfortunate with the timing of everything for us. We've managed to put one song out outside of a lock down and that was a Xmas song that we did just for fun. 
Things can only look up from there then hey!! 
Jordan: Exactly. It is kind of a blessing though because we have something like twelve songs to pick from now for when we go to set up a gig setlist. I know from our old band we just played the EP from start to finish, its just nicer now that we can be a bit choosy as to what we play. 
At least you can change it up. 
Jordan: We were talking about that. This EP is probably our most diverse thing that we have done, where we don't really stick to one sort of style. Even on the EP we have the softest song we have followed by the heaviest song we have. 
Okay 'I'm Not An Emo, I'm Just Sad'.( we all laughed) Tell me about it! 
Jordan: Normally what happens when write is that I will do a demo, I'll show it to the guys and we will all just build it up from there. But I'm terrible at doing any demo names because I don't write the lyrics while I am doing the instruments, I do them first. That was just the first thing that came to my head when I had that first little riff at the start. I thought okay let's just do this for fun. We just kept calling it that and once it was done there were no lines in the song that we could really use for a title so we just left that as the song name (laughs). 
So does the title have any bearing on the song or you just thought you'd stick with it? (by now we are all in hysterics) 
Jordan: No!! We just thought we'd stick with it. I think the just name came because the riff sounded like an old emo song you would have heard. 
I like that! What bands influence your style? 
Jordan: Adam do you want to go first? Actually just for the laugh do Alex first! 
Adam: It's probably the widest base, between the three of us, genre wise that you could get. I will listen to anything from Deathcore to Jazz. 
Jordan: What's that dudes name? Dean Martin? 
Adam: Oh yeah I love Dean Martin. 
Jordan: Yep Dean Martin and Frank Sinatra normally come on after we have had a couple of drinks. 
Adam: Jordan's biggest thing, he had a huge classic rock phase, particularly like KISS and Iron Maiden. 
Jordan: Grade Six c'mon! 
Adam: Okay, okay! We cross over a bit in terms of the hardcore bands. We both love In Hearts Wake and Parkway and Pierce The Veil, that sort of stuff. If there's anything from the metalcore to you know post hardcore area then Jordan and I probably cross over on it. Alex comes from complete left field, this man will just have a complete index of pop songs, loves Sticky Fingers. 
Alex: I think I have just more of a variety. I think with me, I just like to dabble around with different genres. I'll listen to Jordan and Adam and some of my mates things. I wouldn't say I'm more set on one thing but I like to kind of mingle around. 
Adam: it's definitely a bit more left field than ours though. 
Jordan: His Spotify quite often has the Australian top 50 on which would not be an option for Adam and I… 
Who would you aspire to play with given the chance? Let's just do Australia seeing as we aren't going to be able to leave the country any time soon. 
Adam: Oh if I had to play with anyone.. 
Or how about if you could pick a line up? Not sure if I just made that easier or harder for you (Laughs) 
Jordan: Oh that's okay we can all just pick one! 
Adam: It contextually makes no sense but since I was 14 man if I could play a show with In Hearts Wake, Northlane and Parkway, you know my boyhood dream would come true. 
Jordan: Yeah that's the dream line-up. I really like Yours Truly, I think they would be really fun to play with because I dig their vibe and everything about them. I guess also In Hearts Wake was one of the first Aussie metal bands that I really got into so that would probably be another one for them. Oh yes Trophy Eyes! There you go. That would be a good one. I want to hear Alex's cos its gonna be good! 
Alex: Yeah mine is going to be different completely. After 2019 when we went to Good Things Jordan and Adam showed me the music scene and what playing live feels like because I'd never been to a concert or festival before. It shook me to the core how much fun it is, you know what goes on, the ins and outs of everything. From that specific festival I would pick Slowly, Slowly because I really like how they perform. 
Jordan: You have two more! I think I took you to Windwaker too? Did we see Windwaker? 
Alex: I think I remember Windwaker. 
Jordan: No they clashed with the Veronicas. That was Alex's first Wall of Death experience!! 
Thy Art's Wall Of Death was way better!! 
What's next for you guys? Wait for all this covid shit to go so you can do a release gig? 
Jordan: Yeah that would be nice. It's been about four years since Adam and I have done one and it will be Alex's first one so that will be interesting. 
Alex: A bit nerve wracking! 
Jordan: We are really holding out to be able to play some gigs. Lots of rehearsals right now, Ideally it will be very soon. 
Last words? 
Jordan: Please listen to our EP. It's pretty broad in what it is. You can hear a lot of the pop punk influence in it but there are a few songs that go into the heavier tone, especially one song 'Numb/Overcome'. It has this really strange sort of bridge part almost where everything just breaks down and chords being rung out. I remember when we were putting it together I was thinking this just should be called The In Hearts Wake song! When we were listening back to it, it really reminded me of Divination era. There's little drops of stuff in there and then there is really soft stuff. There are some things that are reminiscent of Moose Blood on there. One of our songs 'When I'm Gone' is very soft compared to the follow up track. It's got a good branch of just switching in-between those genres. Even if you're not super into pop punk if you're not super into metal there is something still there for you. 
It shows your diversity as a band too. 
Jordan: We wanted to be able to do something, I guess it wasn't intentional, but we had a heap of demos tracks and we just picked the best songs from that and they just happened to be diverse. This has been good for us because we aren't really pigeon-holed by the sound. Like we said before we can change up our setlist to suit who we play with.