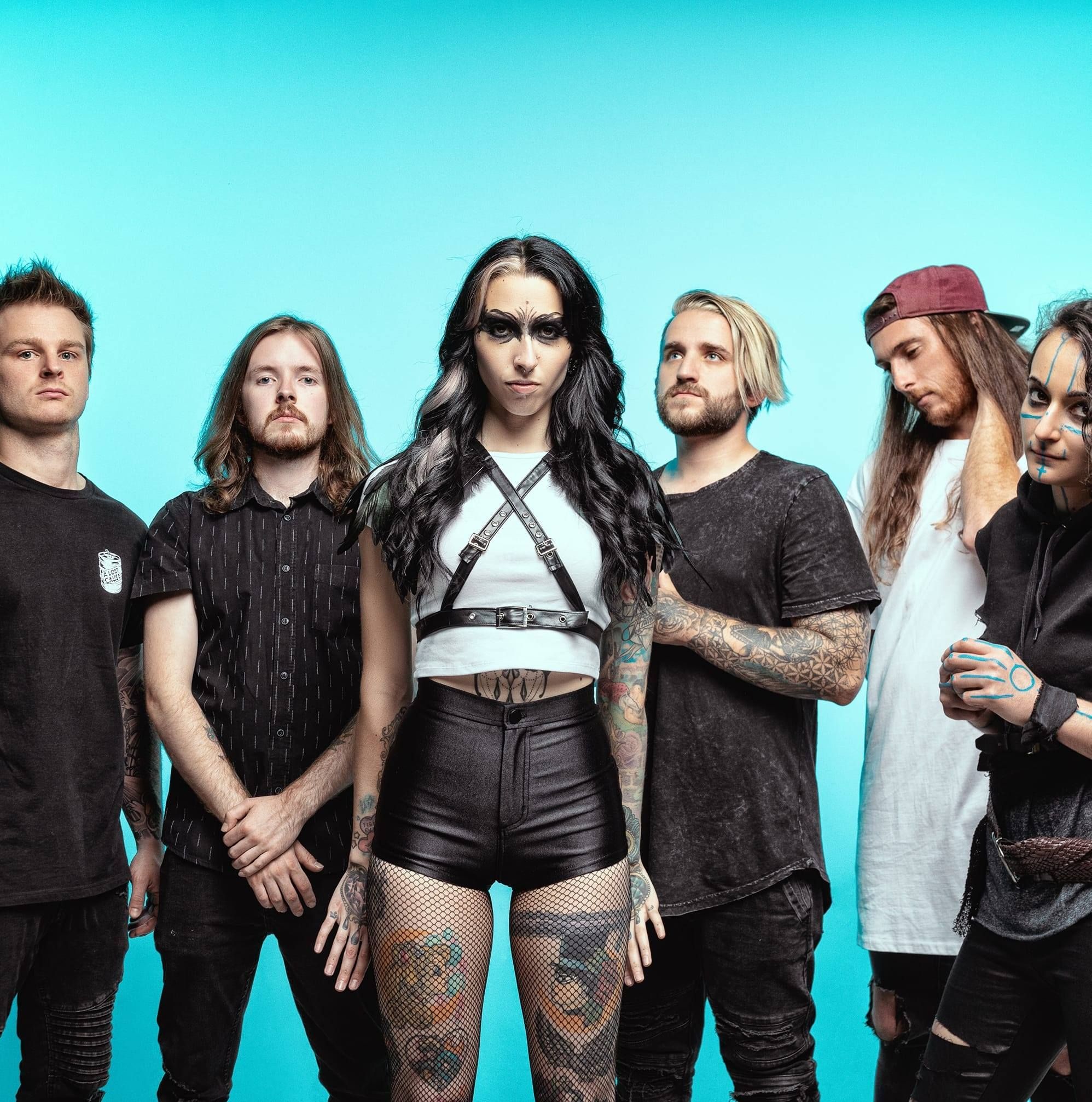 GhostSeeker 
A few weeks back Letters to Amara mysteriously changed their name to GhostSeeker on Facebook and dropped a killer debut single 'Live To Hate Me'.  I caught up with Celeste and Breenie for the goss! 
New name, new single guys?! 
Celeste: Do you want me to explain that component Breenie? 
Breenie: Considering  I was the last one to join yeah. 
Celeste: Obviously Letters To Amara had been together for awhile and considering as such some either wanted to go separate ways and others wanted to continue on 'the good fight'. It was just a matter of sussing out who wanted to give more and continue the band and who wanted to continue on their own paths. That's how that sort of ended. We all spoke about who, I guess, we would consider to fill some pretty big shoes. We came up with what I think are some pretty good replacements. I wouldn't even call them replacements they are also members now. We found good old Breenie and also our drummer Dan. And also a good friend of ours, we call him the OG Letters to Amara member, he was in our band at the very, very beginning and that is our bass player Cory. So we have kind of just amalgamated some really good people and some old people. 
The amalgamation worked; the single is absolutely killer. 
Celeste: Considering that LTA was essentially dead and was being reborn with new members we wanted to change the sound up. We all have different backgrounds and ….. now I'm lost for words, I need another coffee. Breenie take over! 
Breenie: Oh God!  Is influences what you were going for? 
Celeste: Got it! This is why he is the other singer; this is where we bounce. I need him (laughs). Yeah we have different influences so we just wanted to make sure they all flourished in their own way. 
I love the way your vocals bounce off of each other and meld together. 
Breenie: Yeah we got kind of lucky. We did some research around the whole female front with the male screamer and we actually found quite a few that didn't work. We were really worried for a while.  
Celeste: It's true because you can do it so horribly but then you can also obviously make it work so well. For some reason we haven't seen many of them, not to say that we don't want to look and hopefully find some. Maybe we were looking in the wrong places Breenie. 
The single has a real poppy feel to it, I admit I got my groove on when listening to it. 
Celeste: Which poppy??? I always say this to people and they don't know what I mean. Poppy as in the artist or poppy as in the genre? 
As in the genre!! Groovy poppy. It's metal but it has this cool little pop element to it. 
Breenie: Well that works in our favour. 
Celeste: We all like really heavy stuff, but if you meet us and talk to us you'll think 'Mmm yeah that needs to be poppy because they are the biggest bunch of gooses ever'. (laughs) 
Breenie: Yeah a little bit! 
Did you spend lockdown writing or are you super new and coming out of lockdown as a band? 
Breenie: We actually got together and recorded everything prior to the first lockdown. 
Celeste: It's been a long time coming. 
Breenie: The first lockdown delayed us, so this has been almost like a year and a half in the making now. 
Ahh that makes sense now. I've seen quite a few cryptic things on Facebook from you Breenie over lockdown!! 
Breenie: Yeah. Its been a long drawn out process. Rather annoying but what can you do? We are here now. 
It's been worth the wait. 
Celeste: Well we are glad to hear that. We have sat on it for a long time. 
Breenie: We are glad, thank you. 
I asked if the guys had more stuff recorded and ready to go and was met with a wall of silence for a few seconds!! 
…. How much are you allowed to say (we all laughed) 
Breenie: That could get us into trouble!! 
Celeste: I know! Look we definitely spent a lot of the time productively.  I don't think we can stay away for like two years and sit on one project. Definitely some interesting things that we can't wait to share with everybody. It's been hard enough to just sit on this single. 
Did you have a release gig planned before lockdown? 
Breenie: Not this current one, no. 
I know Jase would be on your case about a gig wouldn't he!!! 
Breenie: Oh yeah, of course! You know him… Yes we have been battered about a Stay Gold gig (which is now a thing with tickets available HERE) and a pod session, he's been all over us. 
Bless him. 
Breenie: He's an absolute legend. 
Did you ever fill in for Letters To Amara Breenie? 
Breenie: No I hadn't I actually didn't really know to much about them coming into GhostSeeker. 
Celeste: He's new meat! We had crossed paths in the past, I think that had been the extent of our relationship with Breenie until now. 
How did you come about joining then Breenie? 
Breenie: It's very boring. I was sitting in my room playing X-Box and Tim messaged me. I was like who the hell is this (laughs). He messaged me after he heard that Steadfast was ending and asked if I wanted to keep playing. He sent me the tracks and I had a listen and couldn't turn it down. 
Did you all gel really well when you first started playing together? 
Celeste: Na I hated Breenie! I'm a lone ranger, leave me by myself (laughs). 
Breenie: Yeah me and Celeste had to take it to the parking lot to settle our differences. 
Celeste: I came out on top. 
Breenie: Clearly! 
And you are working with Ionei Heckenberg. 
Breenie: Yeah. He is a cool dude. 
Celeste: He is really good. I think what is really good about working with him is that he is as easy going as he seems. He bounces off you, he lets you bounce off him and around the room. Anything he touches turns to gold and you can see why. I don't think there was ever a dull moment either, we have been working with him for a while now, so even when it did get a little stale something would happen and we would just snap back again and we would keep rolling. He is an amazing person through and through, and super talented. 
'Live To Hate Me' is your debut single, what is the story behind the song. Who wrote it? 
Breenie: Celeste wrote it for the most part. 
Celeste: I did write the lyrics. 
Breenie: I just kicked my melodies in because that one was ready. 
Celeste: I know it sounds cliché and dumb but it was a real collective effort. We had a gist of what we wanted to say and where we wanted to go with the type of song we wanted. Ionei, with his super powers, basically put his stamp on it and made it into a really well rounded, catchy song that portrayed every part of our influences that we could contribute.  The input that he had was amazing. It was a collective. I did the lyrics and some of the melodies and then Breenie put his amazing scream vocals in. I didn't even attempt to try and write those. From everybody else's standpoint everyone put their riffs and melodies in. Ionei made it make sense. 
What's the story behind the lyrics? 
Celeste: It's a bit of a FU to people who don't believe in you and who don't want to be there putting you up, hoping for you to succeed. Live To Hate You basically says if that's what you are going to do then do it because we are going to keep going anyway. It's a bit of a strength song in terms of that. 
You've mentioned all having different influences a few times so I guess who are yours? 
Breenie: That's a terrible question for me cos I came in very late to the song process. The song was written musically and I just had some lyrics and melodies to add. 
You must have got inspiration from them from somewhere? 
Celeste: Exactly! 
Breenie: Yeah.. um.. I'm terrible at this aren't I!  It's hard to say, I listen to a bunch of random stuff really, all sorts of genres. I like to put a lot of rap influence into it I feel. In my mind screaming, or the vocal style of screaming is essentially just aggressive rapping. If you can find that flow and combine the two it creates a lot of cool different elements which I try to explore. 
I relate to that. My playlists are just random as hell. 
Breenie: I never listen to anything specific. If I like something I'll save it to my library and then I just shuffle my library. 
Celeste: I feel that. It depends on the day as to what playlist I listen too. You have to I think, especially in this day and age, there is so much good music out there. I don't even know where I would start with mine, I have a lot. 
Breenie: It's not easy is it! 
Celeste: No it's not. I've been in different bands since I was young. I've been down the operatic metal path; I've been down the black metal path with other bands and then obviously with Letters To Amara the pop punk style. They are the ones I've been in but having said that, I don't want to admit it, but I listen to Cardi B and all that sort of stuff. At the moment I have Stevie Nicks on repeat. I think when it comes to this sort of stuff I am trying to lend a lot more of my stronger, more melodic tones to our music so it's not all just the same. As an artist I want to keep evolving so I am trying to lend a lot more of my broader influences. You will hear a bit of that as you go along. 
You released the video clip for the single today, how has that been? 
Breenie: It's been fantastic. I think we have all been very overwhelmed by all the lovely things that people have said. Obviously the incredible response the video had gotten in terms of views and comments has been phenomenal. 
Celeste: Absolutely. I don't think we have all been prepared for the overwhelming response that we have so far gotten. Especially in terms of our pre-saves on Spotify. With Dreambound taking on our release and wanting it exclusively through their channel, I think that has knocked us all off our feet. It was something that we didn't expect but are greatly appreciative but will always help us remain humble because we are all still just a bunch of kids that used to practise in our garage. We have been very appreciative of all the love that has come through. 
You kept Letters To Amara's  Facebook page and just had a name change. 
Celeste: Yeah. We hope we didn't ruffle to many feathers doing that but we wanted to allow our followers to see that we, as an evolving band, are still us but at 2.0. The great thing about Facebook, and the internet, is that if you don't like it you can always unfollow. If you did want the opportunity to stay along for our ride and see what we can achieve with newer, older and greater things then stay along with us and support us through it. 
So have you picked up some new fans? 
Celeste: Yes we have which has been great and I think Breenie has too through his old page. 
Breenie: Yeah we had the post go out from the Storm the Skies page so that was really cool. We had a few people jump onboard from over there which is awesome to see. They still remember me which is really cool. (laughs) 
Celeste: We actually had some comments on the Dreambound page from people who remembered you Breenie! I think that was kind of cool. 
Breenie: Yeah it made me blush.. 
FACEBOOK   INSTAGRAM    TWITTER    SPOTIFY