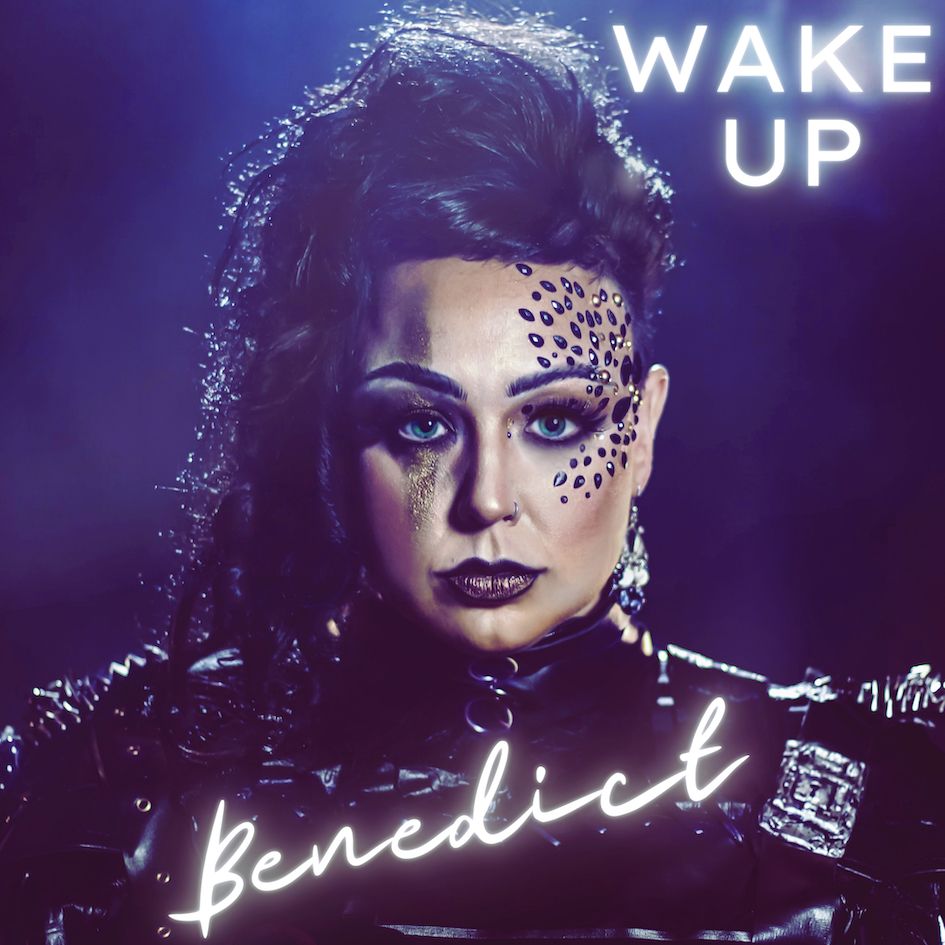 Benedict's emotive single 'Wake Up' came about during a zoom call with a friend. It is an anthemic call to action that speaks on behalf of all humanity, calling for understanding and peace.
Your single 'Wake Up'  came out last week. I get goose bumps every time I listen to it. 
Thank you so much. I love hearing that. 
It's a powerful song with a very powerful video clip. 
That was the aim, to try and get that across. To bring a message that I think everyone is a bit desperate to hear at the moment as well. Sort of 'Hey guys, we have been in this sort of rut for so many years and we need to wake up'' It was important to put out I think. 
And not even just Covid related either, just the way everything is. Like you said the BLM movement which is prevalent again this week with what has happened in the AFL. 
That's right. It's just everywhere. Okay we have Black Lives Matter, LGBTGIA+ where people are still getting discriminated against. We have industries across the world, life in general or women's rights, its constant and enough is enough. This is what is happening all the time and minorities are getting slammed. The riots and everything that happened in America and what was going on there with the government. Even in Afghanistan now, what is happening there. OMG. The stuff that is happening in South Africa. I was chatting to my partner this morning and she said when does it stop? We are all human at the end of the day but there are those extremists and the people who feel the need to control others. It's horrible and it breaks my heart. 
Watching the news from Afghanistan was horrific, people falling from planes because hanging on to the outside and taking your chances on surviving that is the better option than staying in your country. 
It's 2021 and we still have these wars going on across the world and that's why in my film clip I had to put as much footage as I could to bring it home. The pictures of the beautiful women but also the photos of the suffering they are going through in those countries. We are so lucky, I say that every day, being able to be in a country like Australia where we can express ourselves and be who we are. I grew up Catholic and I really love my faith, but then coming out at 20 and it was like well you can't have that. Why? Are you God? Kind of being told what I am and am not allowed to be. I've experienced both sides of that being an LGBTGIA+ and non-binary person. You know 'You're too pretty to be non-gender specific' Like what!!! Having men make their comments because they think they can. I've had the most derogatory comments made to me. Not to take away what a lot of other people have been through, I understand that, but something was boiling in me when I wrote this song. I was stuck in lockdown and watching all these things thinking why is there no music out about this stuff. We have a voice and a platform. I was talking to my friend about it and within ten minutes the song was born. We wrote a bit more once I was in the studio, that last part where it is talking about coming together. Weapons down. There is enough war and pain and suffering in this world. We have a choice to make that change. 
Like you said we are all humans and it's 2021. It needs to stop. Especially the relentless bullying and inappropriate comments. That is something you have a choice in controlling. We have to start somewhere. 
This is the thing. I am 37 and I have been through so many different experiences in my life already. Being part of different communities. The bullying is interesting, I suffered from a lot of bullying at school, for no particular reason, I just did. I hadn't come out then, I was just a really soft kid which made me a target. I was actually home schooled for a few years of primary school because I just didn't want to go. The bullying doesn't stop though, you get into the real world. 
Which is just as bad, if not worse. 
Body shaming, verbal abuse – people thinking that they can call you what they want or say what they like to you, having an opinion on your life or on other peoples lives. I even had discrimination when I came out because I was a gay Christian, I was mocked and laughed at by people in the LGBTGIA+ community and I was 25. I think it happens in all the communities and we need to start waking up. Just because you wear a burka doesn't make you a bad person, why don't you go and talk to them. I worked with many multi-cultural people while working as a guard in the cells and they are just amazing humans, the stories are awesome. It helped us to work with the people who came in to the cells too because we had so many cultures come through, that were arrested for different things. Racism and discrimination is huge in Australia. It's pretty exhausting when you think about it. 
Watching from the sidelines is exhausting so imagine what it's like for the people who live it day in and out. 
I have indigenous friends and hearing their stories is just full on. When I was 18 I did youth work. We went right around Australia and ran these youth conferences for young people in schools about positive awareness of themselves and that sort of stuff. We go to Broome and I sat with the most beautiful indigenous elders and they told me their stories about being stolen. I just couldn't stop saying sorry. I was in tears. The division there alone and what they have suffered is just horrendous. We weren't taught that at school. They raped and pillaged the indigenous peoples of this country and it was kept hidden. 
I wasn't taught that at school. Far from it actually. 
I'm writing more music and a lot of it is around social justices, social awareness and cultural awareness. Like I said I am excited to be a voice for forgotten people, minorities that don't have one. That's why I write music, that's why I perform. To me I have to have a mission and a purpose, and any artist I talk to or am working with or developing under my label I always ask what their mission is with their music. What their purpose is. 
Let's talk about your label, Tomboi Records. 
I think I have experienced a lot of things in the industry around discrimination and being female embodied in the industry. A few months ago I decided that I'd had enough. I just thought I have worked so hard, independently, that I think that I want to start representing and supporting upcoming artists that are in the minority. It's important that we have a label that is safe and supportive and that's where Tomboi was born. For me Tomboi Records is all about that, to support not just LGBTGIA+ and women but indigenous and POC as well. I would love to have a roster of people who know that the are safe and can call me any time. Who know that they are looked after for who they are and what they stand for. There is no judgement. I want you to come as yourself, to be you. Let's work this. 
People talk about authentic music but are not always are supportive of someone being their authentic self. 
It was also born of the fact that I was looking up statistics and 2% of the entire industries producers are women. Really? Right now I am working with two women producers in Sydney and I know an amazing female producer here in Melbourne. I'm pretty sure there is a lot more than that. There are so many amazing women out there that are killing it with production. It's the most amazing time to be coming forward in music and arts. We are all pretty equal! 
It's so good to see so many women, not only succeeding in the industry at the moment, but smashing it. There are so many role models now for young women to look up to. Anything else you wanted to touch on? 
No I think that is it. I'm excited about Wake Up and the message. And I have another single that I'm hoping will be out soon.
If you or anyone you know are struggling please reach out to someone. Together we can make the change. 
Lifeline on 13 11 14 
Beyond Blue on 1300 224 636 
Butterfly Foundation on 1800 33 4673 
Kids Helpline on 1800 551 800 
MensLine Australia on 1300 789 978 
Suicide Call Back Service on 1300 659 467