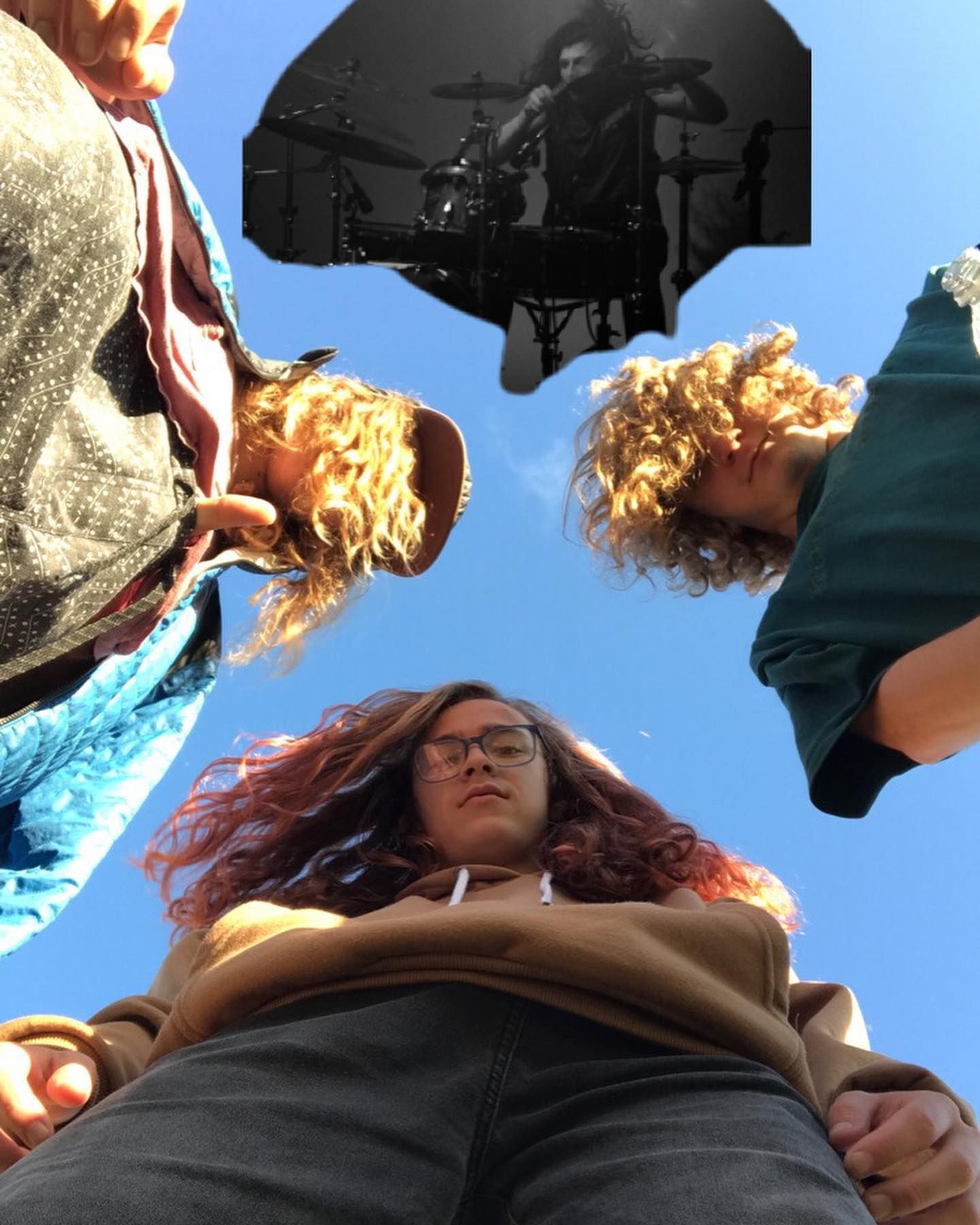 Before I write anything I have to give a huge apology to these guys. We did this interview back in July for their single release and it didn't make it to my whiteboard ☹ hence my mush brain completely forgot about it. So it's my shout for coffee next time boys. 
The first time I saw Sasha play I thought we had accidentally ended up at a Bieber gig…. The moment that vocalist Darcy stepped onto the stage there was a mad rush, from the females in the room, to the front of the stage amid screams and flailing arms. On stage Darcy seems to channel the aura of Jim Morrison or Kurt Cobain and let me tell you the female audience are wild for it. 
At the end of July Sasha released their new single 'Love The Thunder' so I caught up with the guys for a coffee and chat about the single and what they have been up to. 
First off let's introduce you guys and you can tell us who Sasha are. 
Darcy: First off there are the four of us. Me on vocals, Dylan on drums, Kynan on bass and Seb on guitar, pretty stock standard.  We started at the end of high school, that was when we wrote the first songs. 
Kynan: 2018 
Did you guys all go to Marryatville High?  (Marryatville High has a specialized music program) 
Darcy: Yeah we all went there. 
Kynan: In my head it feels like the band started when we all ended up in the same motel room for Generations in Jazz. 
Did you guys all play that? That is a huge event for Mount Gambier. 
Darcy: Marryatville is pretty heavy into Generations. We went down there every year and it was a pretty big thing for us. We were all pretty young and filled with energy and we somehow managed to end up in the same room this one year. I was already doing band stuff with Seb and we expanded the band out to Kynan. I was doing drums and vocals at the time and we were doing Led Zeppelin covers and shit. We got Dylan to come in and do drums and realised he was pretty nuts. We all became best mates. Kynan was really shy to start with but gradually came out of his shell. 
Dylan: I think the thing was they put him in a room with you guys because he kind of new you guys but also we were close. 
(Kynan was relatively new to the school at this point) 
Kynan: Nawwww. 
Darcy: I think the teachers were trying to help him out. 
Seb: They set us up! 
Kynan: I didn't have any friends there at this point and I was on my own so they put me in with these guys. 
Seb: Max was in with us too. He's from Lola (Lola are another band from Adelaide that you should check out) 
So all you guys like Lola, Mum Thinks Blue and Mum's Favourites all went to school together? 
Darcy: Yeah we are all kind of linked in that way. 
Seb: We all hung together in a big group. 
Kynan: Marryatville was good for that, there was a whole bunch of musos in one school. So cool stuff still comes from it. 
You all get that jazz base which creates a different vibe of music. Kynan and Dylan you guys are in SIGN/VS as well which is way different and Seb is in Lola. 
Darcy: Dylan and Kynan are both in their metal band, Seb is in his band Lola and I have my own solo thing going on the side. We all do stuff outside of Sasha. I think this is the group where we can aim to make experimental music, playing around with mixing things that are funky or whack stuff together. Stuff that we wouldn't do in the other bands. 
Kynan: Because we were all friends from high school when we first started we had no experience with any band stuff. I would have been about 15 so it wasn't even like I was seeing bands or anything. I just play bass!! 
Seb: Yeah you had only been playing bass for a few years. 
Kynan: I had no experience. Dylan had a little bit of experience with his old band but we were really just trying to figure it out. We have that friendship that keeps us keen. 
Darcy: it keeps us doing it even when we are going through weird shit. 
Dylan: It's just a group of mates on top of being in a band. 
Seb: We were pretty close mates even before we became a band. 
So do we have many arguments then? 
Unanimous oh yeah's rang out!! 
Darcy: There has been tension and dummy spits!! We are so bad at communicating sometimes. When the communication isn't there you just get frustrated. 
Let's move on to this new single. 
Darcy: New single. This is a track that I kind of wrote the main part to, the lyrics and the basic idea, in Year 12. We jammed it as a band about six months after it was written, when we started getting actual gigs at places like The Exeter, Cranka and HQ. 
Seb: HQ was good. That's where it all started for us in terms of gigging. 
Dylan: I remember doing that Battle of the Bands in Murray Bridge. That was our very first gig. 
Darcy: Actually the first time we played on stage together was when we were at Generations. We performed a song that we had just jammed out in the room that we were staying at. 
Seb: We weren't really allowed to be doing it because we had to get back to see all the teachers. We got up on a stage and then the whole school and the teachers ended up coming over and they loved it. We ended up with this massive crowd. 
Kynan: For some reason there was an open mic stage and we had planned to go there but it started getting later and later. There ended up being a spot available and we were just like fuck it let's do it, even though we knew we would get in trouble. We started playing and a huge group of people started rushing toward the stage. I don't really know what happened! 
Darcy: We just brought every ones energy up. It was great. 
Like that first night we saw you play at the Arkaba!!! 
Kynan: I think that is what happened at Generations too. We started playing and then Darcy started dancing!!!!! 
Seb: That was where we first got a taste of playing live to an audience that were really digging it. 
Darcy: Getting back to the track, this is the first time that we are actually putting out something that is at the standard of where we wanted to be. When we started performing as a band we kind of had the exact same set but the songs sound so different from two years ago. They have changed and developed. We have released a couple of tracks, like Lemon Road and Fuck The Routine which were good, but they weren't quite where we wanted to be as a band. With Love The Thunder we have actually tightened it up before going in to the studio and made it so we knew exactly what we wanted it to sound like. 
Seb: We really knew what we wanted this time around. 
Darcy: From here on that is what we will be doing. We are hoping to record an EP much later in the year if we can fit it in. Hopefully we can smash it out and then move on to writing new songs. 
Dylan: We had a period where we were sitting on a heap of good songs, well what we think are good, and we never really found a good time to record them to release. With Fuck The Routine , we sat on it for a while because we didn't know what we wanted to do when we released it, like have a video with it etc. We never got around to doing the new songs so hopefully we can bust them out. 
Kynan: When we did those first tracks I was only 15, we were really young and didn't know what we were doing. We just fucked around and tried to get through it. We didn't know how to release stuff and when we did release them we fucked it up so bad. It was so messy. 
What's next for Sasha? Get in and sort an EP out? 
Seb: Yeah, we're just trying to sort out a time with Jarryd Nettle to record again. 
Kynan:: Honestly at the moment we don't really have a plan set up. It depends on what we can do, realistically. 
Darcy: We basically have three songs, that we haven't recorded, that are the main songs that we always play. We are trying to pull together an extra track at the moment to have four song for an EP. We also want to make a new set for out songs and move into that quickly. As song writers we have only been writing stuff for two, maybe three years. Now we are moving into territory were we will actually write good songs. Decent stuff, not that we don't have good songs but we have more experience now. 
If you're in Adelaide and get the chance to see these guys live make sure you go and watch them. For such a young band these boys have a fantastic stage presence.