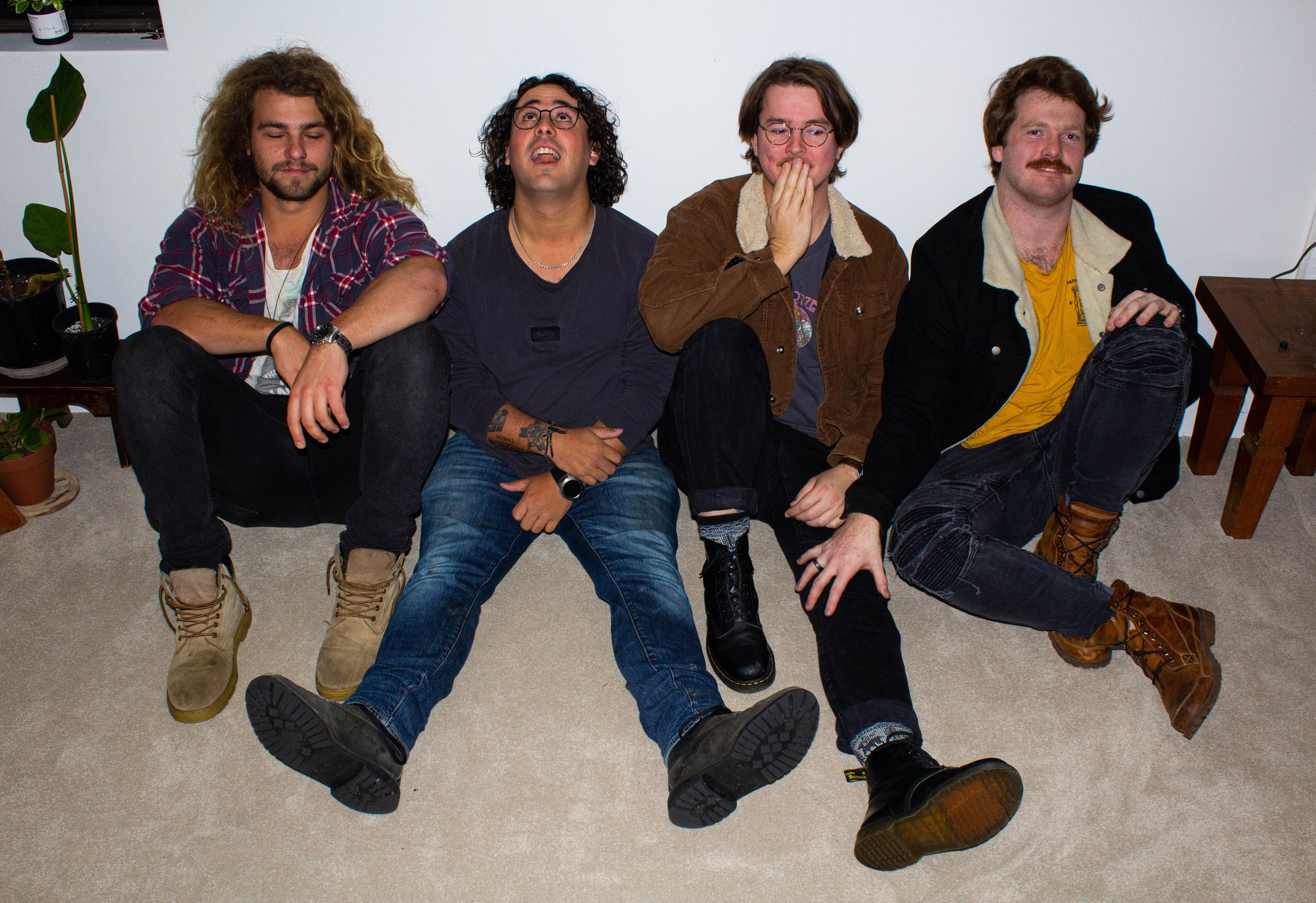 Harley, Max and Andrew from Trouble In Paradise dropped by to talk about their new single Survival Instincts, the sick artwork for the single and how that came about. 
Let's talk about your new single Survival Instincts! I love the artwork on the cover it's sick. 
Harley: Thanks 
Andrew: It's cool hey. I can't remember how we came up with that hey. I remember you just floated it to us Harley. You came up with that right? 
Harley: It was actually a guy that I work with. We were driving along to a job one day and he was like you should think about doing this idea. I told him I would think about it and then I messaged you guys and said hey this is the idea we are going with. (laughs). Shout out to Alex Montgomery!!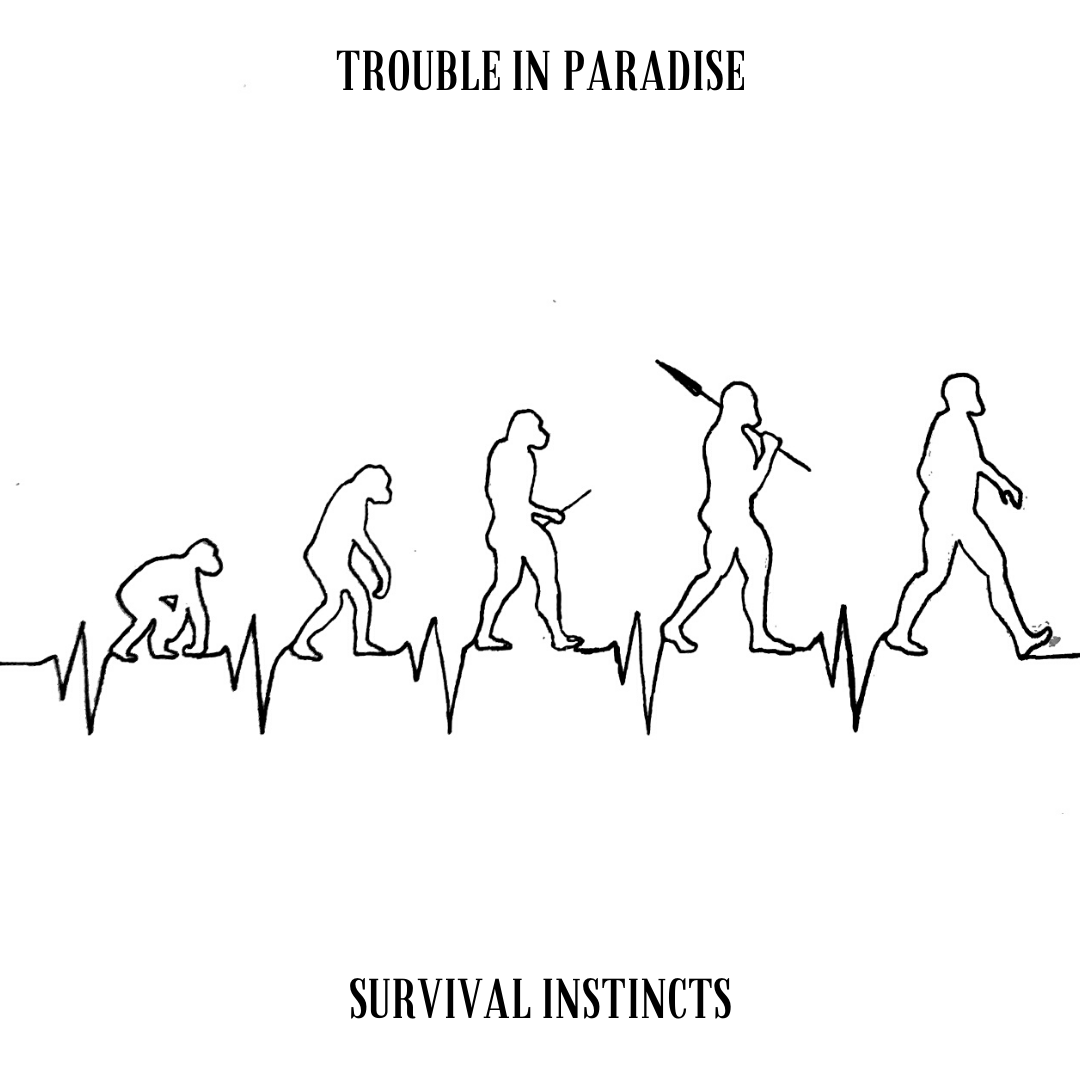 You've been sitting on Survival Instincts for a while. 
Harley: Yeah probably back when Covid started. 
Andrew: It's weird right cos when I joined we wrote a bunch of those songs, we were fiddling around with ideas and Survival was one of the ideas that turned into a song. We sat on it for ages and we had to wait to record it for some reason didn't we? 
Harley: Okay so here is the turn of events from what I can remember. Andrew had just joined the band, he is our new bass player, this was the start of 2020. After we started jamming we got into our first lockdown and that was when we started working on it a bit more. When we came out of lockdown we started thinking about recording it but we wanted to be a bit strategic about it because by that point we were looking at November/December but that doesn't feel like a good time to be releasing stuff. Do you guys remember when we actually recorded it? 
Max: Nope!! I lived with Harley at the start of the lockdown and we did a lot of preproduction and demos on it. During the lockdown we would sit and have a few drinks and jam that riff for hours. It ended up sort of becoming a song. Harley wrote the lyrics cos I can't do that! We took it to the band and it worked really well. I don't know when we recorded it properly though. 
Harley: March or April? I think it was April when we went in. We did some preproduction back in February at our old guitarists house. We got super drunk and the next day laid down a bunch of demos and when it came down to actually recording it was really good, we actually went in with the idea. The second half of the song, we ended up writing extra stuff for it in the recording studio. 
Max: Pretty much we improvised from the solo on hey. From the bridge on we listened to it and thought it didn't really have that punch. I think it was the bridge and I said to Harley try and throw this in there. He gave it a go and we thought yep that's it. We said to him just make up real words other than the melody I just screamed into the microphone!! He put these words to it and we were like 'Oh it works! Excellent lets do that!' 
Harley: I'm pretty sure the second take was the one that ended up being in the recording which was pretty sick. 
Max: There was a stage we me and Andrew just kind of looked at each other and were like yep that's the one. 
Andrew: Yeah it was you, me and Simon the audio engineer. We were like 'That was great, that is it right there'. It was such a good feeling. 
The idea from the song was inspired by the bushfires. Actually I won't use the word inspire, there was nothing inspiring about them. 
Harley : Yeah, as Max said around that time he was living with us and we were playing around with the idea around how the bushfires were happening and how fucked Australia is at the moment. 
Andrew: It was so interesting because it was right at that point where the fires were the worse thing that had happened. There was no pandemic or anything like that, it was just most of Australia was on fire. It was horrific. People were losing their lives, their homes, so many things were going bad. It just looked so bad. We didn't really know what was coming I guess. 
And your single launch got canned. I guess postponing it was the only option. 
Andrew: We didn't get a launch show or anything to celebrate it. It just kind of happened, it was still good but it was a just bit of a shame. 
I've watched so many launch shows get cancelled. I feel for the bands. 
Andrew: The worse part was that it was looking good, we set the day a fair way ahead and there was no cases for ages' 
Max:  think it was the day we announced it they were like 'Oh there's a covid case in Sydney' and we were like oh no its happened. We've doomed us all. 
Harley: We thought we were going to be safe, well most of us because we live on the central coast, except for Andrew who lives in Sydney. 
Harley: Postponed. The two support acts are still super keen and the venue is still keen. The venue that we are going to do it at is sort of like our home venue. It's our go to one on the coast. We have a really good relationship with those guys. Once we are out of lockdown we can sort a new date with them. 
Andrew: We are very keen to play shows. I miss them so much so I am keen on playing the new song and seeing how people actually react to it. Apart from ourselves and our immediate friends we don't really know how it is in a live setting because we haven't played it that much. 
Harley: We might have played it once live at the Factory show. 
Max: Yeah. We haven't played many shows since 2019 so its hard to remember what songs we have played. I was going through our old set list the other day and I found songs that we haven't played since I joined the band in 2017. Its been that long I couldn't even tell you what our set list was. 
Harley: I guess the silver lining is that we have all these new songs because we have been in lockdown. We have a whole set of new music to show people. 
What Aussie bands do you guys look up to, listen to or get inspiration from? 
Max: If you zoom in on Harley's screen there's a Violent Soho shirt!! 
Harley: Violent Soho you could say are definitely a massive influence on us. Who else would you say guys? 
Andrew: That's hard to answer because we all have such different musical backgrounds. 
I had a quick flick through all your Spotify playlists on the bands page. Half the bands I hadn't heard off so I'll be off to have a listen later. 
Max: It's funny. Charles is really into older 80's kind of music. 
Harley: Hair metal. 
Max: Hair metal/ Glam rock. I grew up on punk and metalcore. 
Andrew: I've definitely come from a very heavy psychedelic rock and metal background. I also have a massive love for funk. 
Harley: That's where your bass comes in. 
Andrew: Yeah right. 
Harley: I guess for me it was always classic rock to punk to psychedelic rock. 
Max: It's an interesting mixture between us. 
It makes for interesting music when you sit down to write. 
Max: Every song that we have written for the next couple of releases are all different. I wouldn't even say they were the same genre. They take from different spots and everyone has had a lot of input in them. I feel like, since I joined the band especially, it's probably the most creative we have been. We have been playing a lot of older stuff since I joined. 
Harley: A lot of stuff I wrote and was always bringing to the table but I feel like we are in a pretty good place at the moment with Andrew and Max, and I have always been with Charles. Everyone has a bit more input into the creative process. 
Andrew: The one upside is that we have had a lot of time to spend with our instruments to see what we can come up with. It's a double-edged sword, while we have all these new songs to record we can't so anything with them because we want to play shows with them. There's no win. 
Max: It's all well and good to record a song and get it out there but when you can't do what you intended, which is play the song in front of people, it sucks. 
If you guys could choose a line-up to play with?                         
Max showed his tattoo!! 
Harley: Oh yeah Max would have Blink 182! 
Max: Yeah Blink 182 please, for the love of God. I would just kill to see them live. 
Harley: That goes for all of us. I guess maybe Queens Of The Stoneage. 
Andrew: Oh yes great choice. 
Harley: I've seen them about three times hey and I feel like that is a band that we all really enjoy together. 
Max: Jack White. 
Harley: Yeah Jack White. That would be sick. 
Andrew: Aiming smaller I would love to play with DZ Deathrays. I would have a great time playing with them. 
Harley: Soho as well. A more realistic line up for us I guess would be Violent Soho, DZ Deathrays and maybe Skeggs? 
That would be cool. 
Harley: With us opening… 
Max: Ruby Fields would be cool too. 
You guys have shared the stage with The Rueben's. 
Harley: Yeah we have, we'll Andrew didn't!! (all laugh). That was an awesome night honestly, it was the biggest crowd. The energy and vibes were there. 
Max: It was really cool to hang out with them as well. It was kind of a fan boy thing, getting to play and hang out with The Reuben's. We played pool with them for about two hours before the show just having drinks. 
Harley: The guitarist kept shouting me drinks at the end of the night. 
Max: (laughs) We used up our tab pretty quickly!! They chipped in for us which was so good. They were good blokes. 
What's next? 
Max: What's next for everyone really! 
Yeah probably not the best question. 
Harley: We are going to try and ride this wave of this release. If it doesn't happen we have more to come. I reckon if we time it right we might be able to release the next single by the next lockdown. 
We all cracked up 
Harley: I meant out of it but you know that's probably what will happen (laughs). When we released our other single I think it was two months before the first covid lockdown, that was Imaginary Friends and Places, we kind of have a habit of that happening to us. 
There's a pattern forming here! 
Andrew: We can't release music so that everyone can get out of lockdown. 
Harley: Hopefully restrictions ease a bit because we wouldn't mind doing some virtual shows. There are a couple of places in Newcastle that I have been looking into where we can do a live set online. We may have to adapt with lockdown. 
Andrew: This might be the new norm for a while. 
The plus side, if there is one, is that people are more active and engaging on social media. Bands are getting more traction and being able to interact with fans which is awesome. 
Harley: I feel like we have slowly started to get that. I'd be surprised if we end up playing a live show there will be a bunch of faces that we haven't seen before. 
Max: We are really praying. for when lockdown ends, to book a show and hopefully people are just itching to get out of the house. 
Andrew: Ironically right before lockdown hit I was trying to get to as many shows as I could with bands I hadn't heard of. I realised it's so easy to get stuck in your own music, I wanted to expand and get new inspiration. 
Time's nearly up guys any last words? 
Harley: Thanks heaps for chatting to us. Hopefully it won't be long till we are playing shows again. 
Max: Sorry we kept going on about the whole covid thing! 
Andrew: Yeah we got stuck. 
That's fine guys. Everyone has a covid story sadly.