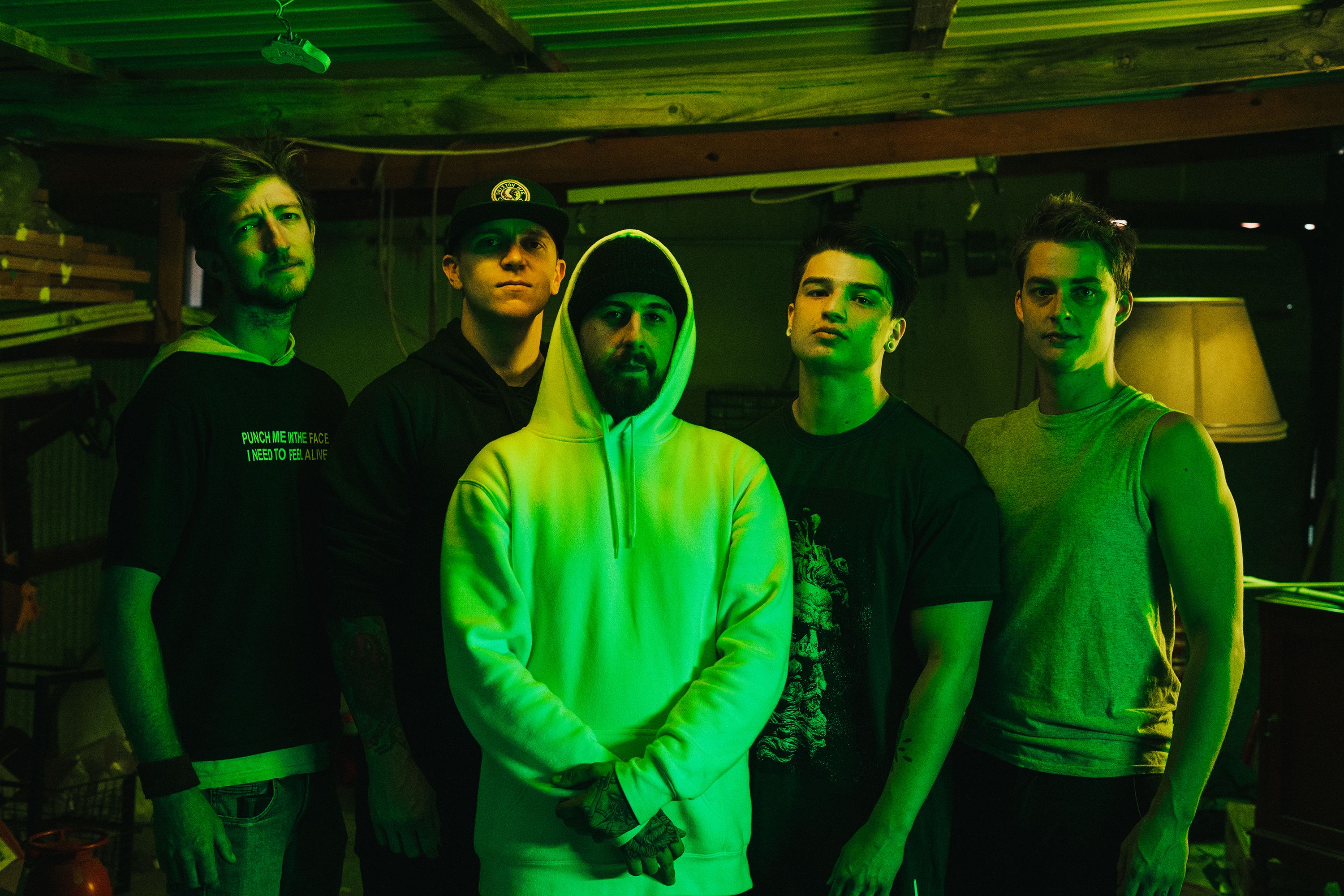 In Ancient Times to be a Druid was to be a religious leader, legal authority, adjudicator, lore keeper and political advisor. In 2021, DRUID are re-writing the definition, bringing heaviness to the world in the form of their new breed of nu-metal/metalcore machinations.
I don't even know where to start because you guys have had a massive two months! 
Yeah the last couple of months have blown up completely, more than Druid has in the last year. It's been pretty intense for us and surreal. 
From dropping Room 44 to playing Knotfest's Pulse of Maggots its been a very busy time! Obviously someone from Knotfest came across you guys and liked what they heard. 
They heard DTHBLW and picked it up, they wanted to air it on their countdown show. They released an exclusive of it before it went live on our end. It got a pretty decent reception so they asked us for the same thing with the I, Exist (Voices) release and asked us to be on Knotfest and obviously that was an offer we couldn't refuse. We tried our hardest and we turned around the Knotfest gig in about five days. We had to set it up and have it all organised. We recorded our live show at Stay Gold in Melbourne and that was the one that was on Knotfest. 
You  guys have been around since 2018? 
Since late 2018 
So you just got up and going then Covid hit? 
That's pretty much what happened. We released Semblance and we were in the process of doing new stuff when Covid hit. We were still recording at the same time but obviously it put a massive halt on everything and it quickly got pushed out. Then that halted music videos and all those kind of things. Even getting together for gigs. We kept writing while the lockdown was happening and preparing for when lockdown was lifted so that we would have a decent, consistent amount of content to be putting out afterward. 
Well that plan worked for you guys! 
It is so far. 
There's not a lot of Aussie bands that get that Knotfest opportunity. 
Covid was a blessing in disguise in that respect. There is no way we would have been able to get to America to play that show and there's no way they would have offered it to us otherwise. We have noticed that a few more American's are listening, it pricked their ears up on Spotify as well. That's been fantastic. 
Druid is a little bit Gloom In The Corner-ish with your story line that you have happening. 
We'll take that. 
You are releasing your debut album 'The Beauty in the Decay' on 3rd September. Where did you get the title from? 
It's actually one of the lyrics in Room 44. We thought it summed up the album quite nicely. 
Can you talk us through that without giving away the grand finale? 
Obviously the full story hasn't been put out yet but Chris, the other vocalist and I, met up before pre-production and discussed where we wanted to take the direction lyrically for the album. We wanted to still make it personal so even though it is based off imaginary characters we put in our own personal experiences to make the characters more relatable rather than just angry. 
You have the artwork to go along with that story too and I'm guessing all the pieces will fit together for the big finale. 
Yeah once everything is out, even though you can listen to them individually because they are done in a way that they can be enjoyed separately, they will flow into one another and you will see the bigger picture. 
Your latest single I, Exist is a banger. 
Thank you so much. That's actually one of my favourites too to be perfectly honest. Even thought the music video doesn't follow DTHBLW, lyrically it does. From a story perspective it deals with the consequences of what happened. So he is just determining, not necessarily if what he has done is bad or good, but whether it was justified or if it was going to hurt him in the end. Obviously we have put in our own experiences dealing with depression and all that sort of stuff. The first few music videos kind of set the story. It is based on a relationship that falls out and they are dealing with the ramifications from there. That is where DTHBLW comes in. 
So touring? I guess that's off the table at the moment. Have you played any shows since you released these songs? 
We have managed a couple; I think maybe three. We've had three postponed or cancelled as well. It's been a bit tough. 
You did one with What We Did On The Weekend didn't you? 
That was the one we did most recently at Stay Gold that got onto the Knotfest line-up. That was with ATLVS. Prior to that we had the Alpha Wolf show, we opened for them. That was a very, very big show for us. If you watch our video for I, Exist that's Sabian's beautiful work. He did the video for that. 
Things are moving quick for you guys! When do we get the last part of the puzzle? 
We are still working that out at the moment. It's kind of a bit of a learning curve, making adjustments as we go along. You'll have to keep an eye on our socials!! 
Influences? 
Tim: Oh how long have you got??? We all come from a pretty flexible background, so from all different aspects of metal I guess. I know Jordan loves his Melbourne scene. Rob loves absolutely everything that goes ra ra ra! As you can tell from the music we have put out it's quite diverse. There are elements of hip hop, electronics. Its like we have blended all the genres that we like and have tried to create something a bit more unique. 
You can hear that, that's why I thought I'd ask where your influences lay. 
Tim: :I'm more on the softer side. More poppy and rap influences but I also like heavy music which is why I am here. 
Rob: Me being the guitarist I kind of lean more towards more the melody of it. I love getting those melodic little riffs in there like in I, Exist. But then through playing our last EP live, I have realised I don't want to stand there being to technical on stage all the time because it doesn't necessarily translate well and we want to have some fun and be able to dance around. Put the chuggy riffs in there and give ourselves time on stage to enjoy it. 
Your dream line-up to tour with? 
Rob: If Polaris isn't doing anything we can ride their coattails all day long. That would be good. 
Tim: Parkway Drive, I love Parkway. 
Jordan: Third one for a bit of nostalgia would be Bring Me The Horizon. They have been quite diverse over the years. 
Sempiternal era? 
Jordan: Definitely 
I'd be down for that gig!  Last words? 
Just a massive thank you to anyone who has listened to Druid, there is a lot of music out there in the world and we are very humbled that people are listening to us.
Since the interview Druid have released another single 'Noble Rot':