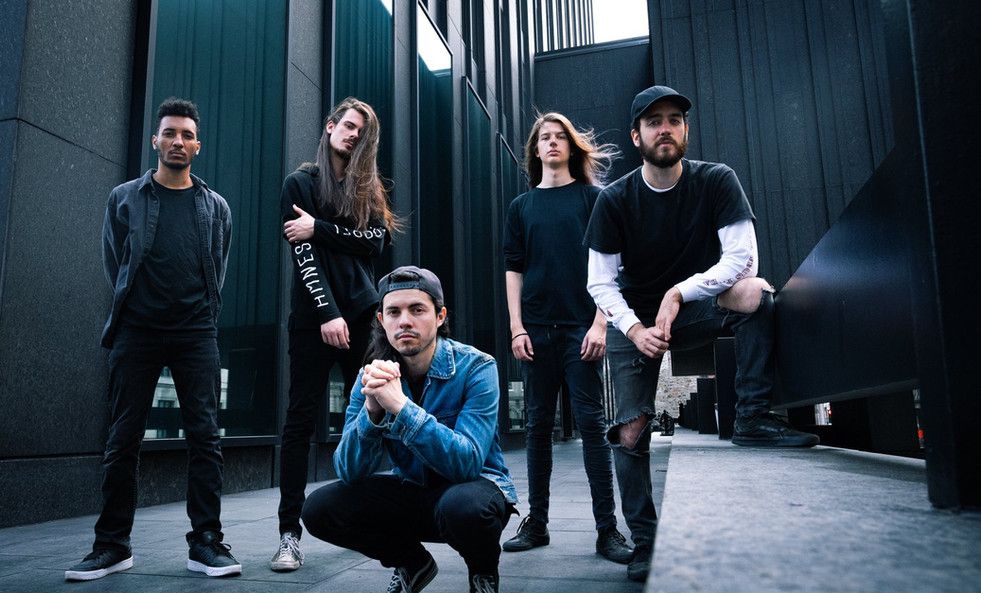 Montreal's Suicide For A King released a four track EP 'Corrupted Vision' last week. I caught up with guitarist Raph on the eve of the release to find out what makes SFAK tick. 
Vocals: Jay Rodriguez Carignan  
Lead Guitar: : Raph Stooke  
Rhythm Guitar: Fred De Celles   
Bassist: Éma-Loup T. Gravel  
Drum: Vince Henri
FFO: Northlane, Polaris, Mirrors
Hey Raph thanks for taking the time to chat. Suicide For A King has had a few line-up changes since its inception. 
This line-up we have had for about nine or ten months but originally the band has been around for about three or four years. There is actually only one original member which is our other guitarist Fred. He has been in this project for at least five years. I was the next member to arrive that is still here today. We found our singer Jay, I don't know if you have heard of Gigi or Craig's List, but it was that kind of deal (laughs). We found him there! 
It's surprising how many band members are found on places like that! 
We felt it was kind of risky but we had nothing to lose by giving him a try. We liked him and he liked us, it was a real connection with the music tastes. Our drummer Vince at my school, we studied music together. I asked him if he wanted to try out for the band because we were having difficulty finding a drummer. 
You have a new EP coming out on Friday 'Corrupted Vision' 
A few of the songs have already been released, we still have one more to come. We feel, at the moment, that the next song that comes out is like the resume for Suicide For A King. We feel that it has everything for now, brutality mixed with atmospheric vibe. We have a solo in this one played by me! I'm really proud of it, I believe it is my best solo so far. I'm not so much of a solo guy anymore, as I have gotten older I've taken a little break from solos (laughs). But yeah, Corrupted Vision, this EP is all about the pain of being a human being, the anxiety, the stress. How sometimes there is joy and happiness right in front of us but we are so much in a tunnel with our vision that we can't see it or enjoy life as it is. The next song that is coming out is literally about the last seconds you live or the last seconds before something tragic or irreversible happens. It is that one moment. We tried to translate it with music as we thought it would happen. 
I really loved 'The Worst In Us', the technicality of the music and Jay's vocals work so good together, the way he transitions from screams to cleans. 
Yes he does both now. Before this EP he was having a hard time when his clean vocals were too exposed but he really worked on it for twelve months, it is going to continue to get better. 
Listening to 'Enemy' after TWIU you can hear a change in the music. It's got a bit more of a rock groove to it. 
Yeah. It has a sound that is a little bit more accessible to the metal industry but without removing anything accessible from The Worst in Us in my opinion. 
I wondered if by removing some of that more technical sound it was to get the message across lyrically. 
It was to put more focus on the vocals so you were correct. We wanted to create a song that was more about the vocals, we are still trying to figure out what we are able and unable to do as musicians. Now we know we are able to create music around the vocals before that I personally think that we were trying to maybe show off a little bit as musicians, we would surround the vocals but in a good way. 
The music for The Worst In Us does the same. It really compliments where Jay takes the vocals. 
Yes, as you said there was a really good compliment between the vocals and the instruments. A week before we went into the studio there was a good chunk of the song that hadn't been created yet. There was a good part that wasn't written, maybe a quarter of the song. It was stressful, we were like "Shit what are we going to do?" 
Who did the recording for you? 
A guy from Quebec, which is our province, by the name of Max Lacroix from The House of Gain. All he does is metalcore, deathcore and all stuff like that. He does a great job in mixing the songs in my opinion, he is one of the greats in the mixing science. 
You have shared the stage with some pretty cool bands! 
Yeah we have. It was an honour and a privilege to play with Silent Planet. Our time playing with them was my first time seeing them. I was mind-blown. 
The first time I saw them play I was reviewing the gig and they blew my mind too. I didn't even take any notes, watching Garrett on stage is mesmerizing. They came back again and played with Northlane, who I think you guys sound like. 
It would be an actual dream to play with Northlane. They are just too good; they are almost like legends for me now. 
I'm keen to hear their new album. 
I cant wait. I listened to Alien and thought it was good but it didn't attract me as much as their old sound with Adrian as the singer. There was something there that was organic in a way. But their new stuff has that synthetic sound that is mixed up with metal and that is very attractive. 
They have done that so well. 
We have another band here in Australia that you guys remind me of called Mirrors, when I first listened to The Worst In Us I immediately got Mirrors vibes from it. If you ever get to Australia there are a few bands that you can take on tour with you!! 
This is good. 
We have some killer bands here in our metalcore scene. 
The metalcore scene is the strongest in Australia I believe. It shows in all the numbers and statistics that Australian metalcore is heading in the right direction. You guys lead the world scene in metalcore, there is no doubt. 
Who else do you guys look up to for influence? 
Obviously Northlane is one of our influences or we would like to be seen like this. Also I would say Currents and Polaris, you know Polaris for sure! 
Oh yeah I know Polaris!! They have just announced an Australian tour so fingers crossed it goes ahead during these weird times. Have gigs returned in Canada yet? 
It's going to start quite soon. For Suicide for a King, we don't have any gigs for now because we have decided to wait for a little longer. But there are a few shows coming up near the end of summer and also during the fall. We might do one or two shows during the fall but it isn't a certainty yet. 
How did you come up with the name for the band? 
It's actually a funny story, it came before I was even in the band. It was only Fred and the other guys that used to be in the band. He was playing chess with the guitarist, he sacrificed one of his pieces for the king and he said out loud 'Suicide for a king'. And that is where the name comes from. 
Anything you want to talk about Raph? 
Oh I wasn't prepared for that one! Two days ago my manger said "Jay will be in a plane so you will have to do the interview" I was like oh okay! We believe we are part of the up and coming music scene, we started not that long ago and we are still evolving a lot, which shows if you listen to our older stuff. A few hours ago I was with our drummer and we were like holy shit the music we are doing today is way better than the one that is coming out in four days! There are huge steps that are being taken, not only us but for all the up and coming bands, we have to still be aware that the music is evolving. We also want to thank you for helping us out so much and helping other bands. That is just so great. I am proud of the new EP 'Corrupted Vision', we want the whole world to hear it and to enjoy it. Take a listen and let us know what you think.
INSTAGRAM    TWITTER    SPOTIFY    APPLE MUSIC    BANDCAMP    SOUNDCLOUD    SUCIDE FOR A KING