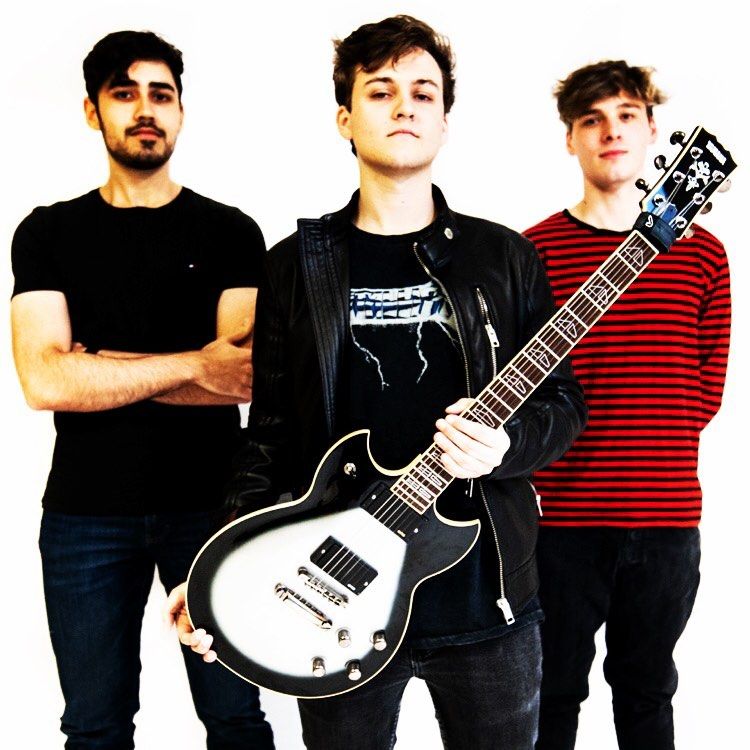 FFO: THE OFFSPRING, THE LIVING END.
Welcome guys lets start off with a bit of the story of Heligan.
Miles: It was in the lockdown in 2020 at the start of the year. Basically it gave me the time to look at what I was doing musically. I knew I needed an original project; we had just finished up with our high school band, and I really wanted to write music. I started to put a plan together and finish off some songs that I had started. I ended up forming Heligan just through these songs that I wrote through the lockdown. Josh and I were in a band together through high school but like I said it kind of fizzled out. Josh and I really wanted to pursue music together. I was looking for a super, super solid drummer and Sean came up at just the right time. We started chatting about the bands we like and he is really into skate punk and things like that from the 90's and that is definitely the drum style I wanted for the band. The three of us got together and jammed out a couple of the songs and it went really well. After a month or so of practising everything opened up again and we decided to play an open mic night at a place called The Indian Ocean Hotel. Usually it is really packed there, everyone wants to play that open mic night as there first show. It was awesome. 
So you got some good feedback? Good enough to make you decide to go for it. 
Miles: Yeah. After that we felt really optimistic and energetic about how the gig went and how people responded to the songs that we had worked really hard on. We went into the studio and we decided to record the debut song which is Castaways. It's been pretty good so far and now we are ready to release it. 
Punk and Pop punk are making a comeback which is fantastic to see. 
Miles: It's good to see. I love punk from the 70's all the way through to what is being released these days. The way it has evolved as well, it's really interesting to see how it started off as so raw and energetic, and now there is the pop punk side of things that sounds really produced and together. I think that there is two clear different tastes. What we wanted to go for was sounding together but still having that raw energy. 
The first five seconds of Castaways gave me The Offspring vibes. Are they one of you inspirations? 
Miles: Yeah. I have listened to Smash so many times, there are so many great songs off of that album. The chord progressions, although they are quite simple, they are really catchy and the way they are played is actually quite technical. It's a huge guitar sound. 
What about you guys Sean and Josh, what do you guys like? 
Josh: I'm a little different from Sean and Miles. I like punk, I like The Offspring and all that kind of jazz but I lean towards a more jazzy and experimental genre. There is only so much you can do in a pop punk band on bass in regard to putting your own influences out there when its not directly tied to pop punk genre. It's certainly a very fun experience to play in Heligan. 
You've not played in anything punky before? 
Josh: Not really, as in bare knuckles skate punky sort of stuff that we are doing. I found that really interesting, especially with the percussion. There are a lot of beats that are rhythmically challenging for bass but finding a good groove in that makes it all worth it really. 
Sean: There are some very fast beats. I'm more into the skate punk from the 90's and melodic hardcore bands like No-FX and those kind of Fat Records/Epitapah  bands. A lot of that fast double time drumming, in my teenage years I pretty much locked myself in a room and learnt how to play all these albums. 
Do we have more songs recorded and ready to go? Or are you just starting with Castaways? 
Miles: We recorded two songs, Castaways being the first of those. We have a lot more songs written; we are constantly working on new music. We are always trying to expand ourselves each time we write something. These first two singles are the ones we felt strongest with and they are the ones we like playing the most which is the most important thing. We are having fun playing these songs. 
What is the story behind Castaways? 
Miles: I guess Castaways is about corruption in society. Basically I had a friend who was struggling overseas. There were some unjust things happening in a company and people weren't being paid and the union couldn't get involved. That really pushed me to write this song about corruption. It's not only about that story. I did some research, looked at news articles and things like that to give me some inspiration for this song. It's about how someone in power don't see you as another person, they just see you as someone they can use and then throw away. It's about fighting against it. 
You recorded with Sam Ford who has recorded some pretty big bands like Birds of Tokyo. 
Miles: Yeah he has done a lot of cool bands. He also did Psychedelic Porn Crumpets who are exploding right now. They were selling out venues in the UK before Covid. 
I read that the name Heligan came from a place you visited as a child Miles? 
Miles: Being from the UK we travelled around the UK a bit when I was a child. In Cornwall there is a really nice garden called The Gardens of Heligan, I remember being there as a kid although they are quite distant memories now, and seeing all this amazing nature. I distinctly remember there was a sculpture of a woman half in the ground and kind of like mossed over because it was so old. I thought Heligan was a good fit for our band name because I want to raise awareness about nature and not many people really know about it tucked away in the corner of England. Taking an acoustic guitar and sitting in nature has a completely different vibe from being locked up in a room trying to record. 
Lastly if you guys could put on a tour who would you have on your line-up? 
Josh: I would say definitely Queens of the Stone Age. 
Miles: I guess with our music its kind of like a fusion, some of our songs are thrashy so I would say Metallica would be pretty cool. They are such a huge band. 
Sean: I'd probably choose Strung Out, they are like a melodic hardcore band, they do a bit of metally stuff too. One of their live shows I saw was one of the best live shows I have ever been to. I love them.
Heligan have their single launch tonight at Convenients with tickets available here.
You can listen here to Castaways on all platforms.