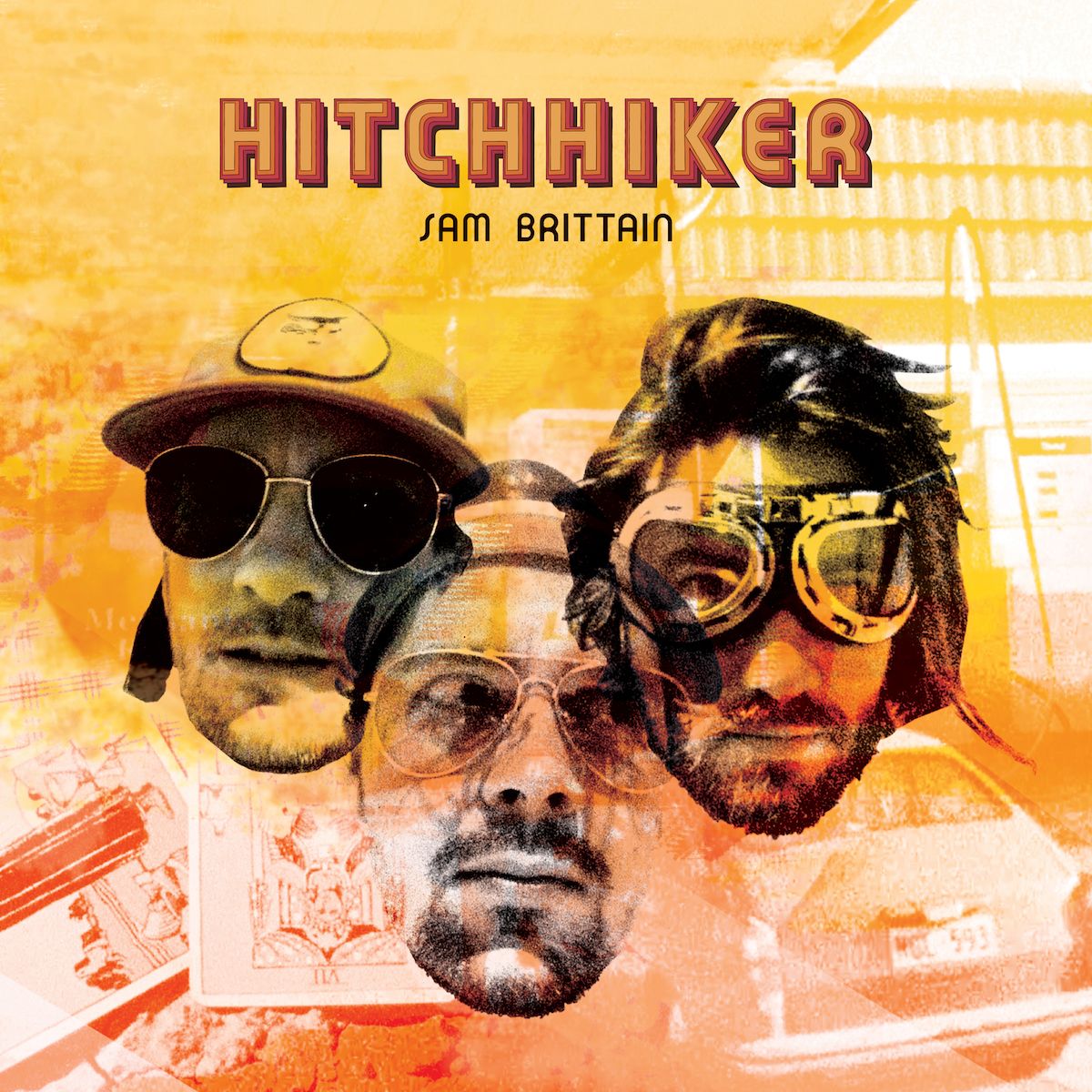 Adelaide's Sam Brittain has a new single 'Hitchhiker' that comes with a hilarious video clip. I caught up with Sam recently to talk about the single.
You're an Adelaide boy! 
I am, from the glorious Barossa Valley. 
You have a killer new single out. 
Yes we are pretty excited about it. It's been a long time coming. The record was finished quite a long time ago but due to the world being the way it was we had to put it on ice for awhile.  It's all coming to fruition now which is great. 
I've watched the film clip quite a few times now, its hilarious. 
It was good fun to make that's for sure. 
I can imagine!! My partner and I are big Wanderers fans so we had quite a giggle at Matt and Dusty. 
Well there you go. The Wanderers are all my band members, basically it's me plus all of them. That's who did the album with me. We are all one little happy family! 
Okay we aren't here to talk about Wanderers!!! 
I'm always here to talk about them! Mainly to give them shit as much as possible (laughs) 
The new single 'Hitchhiker' has a bit of a story. 
The story began with sitting on the train for hours and hours to kill and I guess you don't really expect to be travelling on a first class train across the country and be confronted with the fact that there is a stowaway or a hitchhiker on the train. I guess I just started strumming away on the idea of that but it was really more of an artistic liberty. I just used the concept of what was he running from. What was so important, or what situation was so desperate that he had to get out of Perth that badly that he was willing to jump on a motor rail car in 46 degree heat across the desert with no water, shade or food in the hope of making it to Sydney. The song was born out of exploring that kind of desperation. The video popped into my brain far later. I have always been a massive fan of Fear and Loathing in Las Vegas and I just started thinking about video clip ideas. I was like 'Man what if instead of Benicio del Toro and Johnny Depp's characters seeing bats across the sky, the hitchhiker they pick up is actually our drummer, and we hallucinate our drummer everywhere. So Matthew Birkin plays the role of the gas station attendant, the hitchhiker, the prisoner on the side of the road and the cop! He's everywhere. We were filming on the day and trying to work out how we were going to finish the clip. I was working with Mickey Manson who is an incredible surf film producer, he films everything on Super 8 tapes the old school way and we thought how are we going to wrap this up in a nice little neat ball?? Mickey was like instead of making it the hotel in Vegas and you know, settling in for an acid fuelled bender, how about it ends in a bloody shoot out where Matt steals all your drugs and money and leaves you bleeding in the desert. I was like okay but how are we going to pull that off? He said don't worry I have three fake guns and five litres of blood in the boot of my car!! We were like cool let's do it, sounds good. 
Was it filmed around the Deep Creek area? 
No we filmed it down near Willunga near the clay cliffs that are around there. The ocean is basically on the other side but we filmed back from it so you don't really see it apart from fleeting glances. We also did some around Myponga. 
I also need to ask about the tarot cards. 
Oh jeeze the tarot cards, why is that? 
The Chariot is about overcoming obstacles but its reversed which means lack of direction. I was like wow did they know that they did that? 
No we had no idea. We literally had a whole bunch of props for the shoot, you see that we are talking on a red phone in the car that isn't attached to anything! You can see there was a lot of thought process, we just tried to make it as whack as possible. But I didn't know that about the tarot cards. We just thought the exploding pile of tarot cards would be a great transition for the video. Now I'm going to have to watch my own video back! Is it when it zooms in on them? 
Yeah. And The Chariot and The Five of Cups are both reversed, the reversal of the Five of Cups means that you are accepting things and moving on! 
Wow! Well maybe that's a moment that was a bit serendipitous because we had no plan of that at all. 
I was like oh cool easter egg when I saw it. 
Looking at it now that is ridiculous, that's crazy. By all intents and purposes if that video was done in the real essence of Fear and Loathing we would have been pretty lost and we would have had to accept a few things we couldn't change. You've made my morning with that. 
The repeated section of the clip, when the convict is hitting the rocks and then it flicks to the skull. That is repeated quite a bit what is the meaning of that? I'll just dismantle your video clip now (laughs) 
What do you think that means? 
I'm not really sure. I've watched it a few times now. 
Honestly if I give you an idea about those hammer strikes on the rocks, we had an idea in the studio when we were recording the song. I really wanted this industrial kind of clang to be happening in the back chorus hook of the song. What we got Matt to do was we went outside to the studio car park and found this old street sign pole and dragged it into the studio with a bunch of corrugated iron and laid it all out on the floor and stood the pole in the corner. We got him to smack this pole and iron in time with the snare drum kit in that hook section of the song. If you actually listen to the music when you are watching the video you will hear when he strikes that rock this big industrial electronic clang. I thought that would be a really great transition to break the video up. It just all stemmed from that kind of idea, we're talking Fear and Loathing and all those kinds of things within the video, but why not it be a rock one minute and a human skull the next. At the end, on the side of the road when Matt is pushing himself as a prisoner down the road, we thought lets just put a skull there and smash one to bits. That could be a really cool bit of footage. 
I thought there may have been a different meaning, but its tying it in. 
Its all tying it in to the sonic choices of the song and we wanted to really draw attention to that sound. It worked really well in the editing process. When you are working with Super 8 tape too you don't really have a lot of footage to choose from. Three rolls of tape is quite expensive and gets used very quickly. Every movement that you do has to be rehearsed, like Matt swinging that hammer down did practise shots and then Mickey would have to follow the movement. The whole video was filmed in tiny little 10-15 second grabs. So being able to reuse shots and key things for repetition was not only an economical choice but also played hand in hand back into that hallucinating and repetition of being caught in a trip kind of thing. We thought it tied in really nicely. There was never any really huge plan it was just getting the right people together with the right kind of vision and ideas and letting each other's imaginations run wild. 
I have to ask, Dusty's googles? What the hell!! (laughs) 
(laughs) Dusty's goggles… well that's a little homage to Fear and Loathing as well because obviously in the movie.. 
To be honest here I have never seen the movie!! 
Oh well you have to watch it. The characters travel from New York to Los Vegas to cover a desert motorcycle race but they never make it because essentially they are too cooked. They are out in the desert for one part of it trying to cover this race and they are wearing scarves over their faces and big goggles. We walked into a costume shop to pick up some bits and pieces for the video and found these googles. I was like Oh Dusty these are so yours mate! There was nothing better that watching Dusty play a slide guitar solo in the middle of the desert with rock'n'roll hair and aviation googles on!! It's a vision!! 
It is!! I was like WTH!! 
I'm sure this video has made a few people say that! 
It is so good. I love the 70's vibe about it. 
I'm glad you enjoyed it. 
So what's next for you? 
We will be releasing another video very shortly, the second single off of the album which I am still deciding which one. There are two very strong contenders, one which is a video follow on from the Hitchhiker video. I had the concept of there being a part one and part two which is for a song called Trap Door. But you will have to watch this space! Matt Birkin's acting career isn't done yet….. 
Back tracking slightly you have been compared to Bruce Springsteen and Tom Petty! Pretty high praise. 
It was a surprising review from Rolling Stone. We were wrapped that they wanted to do a feature on the song. To have the song writing and sonic choices compared to two of my greatest inspirations of all time was mind- blowing. I guess its nice to know that those influences are coming across because I grew up sitting in front of mum and dads record player listening to Born to Run. It was the first cassette I brought with my own money. Tom Petty and The Heartbreakers have always been my favourite band, I was lucky enough to see his last ever concert before he passed away, I was in Los Angeles and managed to snag a ticket to see them at The Hollywood Bowl. It was the last time he ever played live and I was lucky enough to witness one of my greatest inspirations live right at the end which is pretty damn special. I'm stoked that those choices came across in the music and the song writing, I couldn't be happier about that.