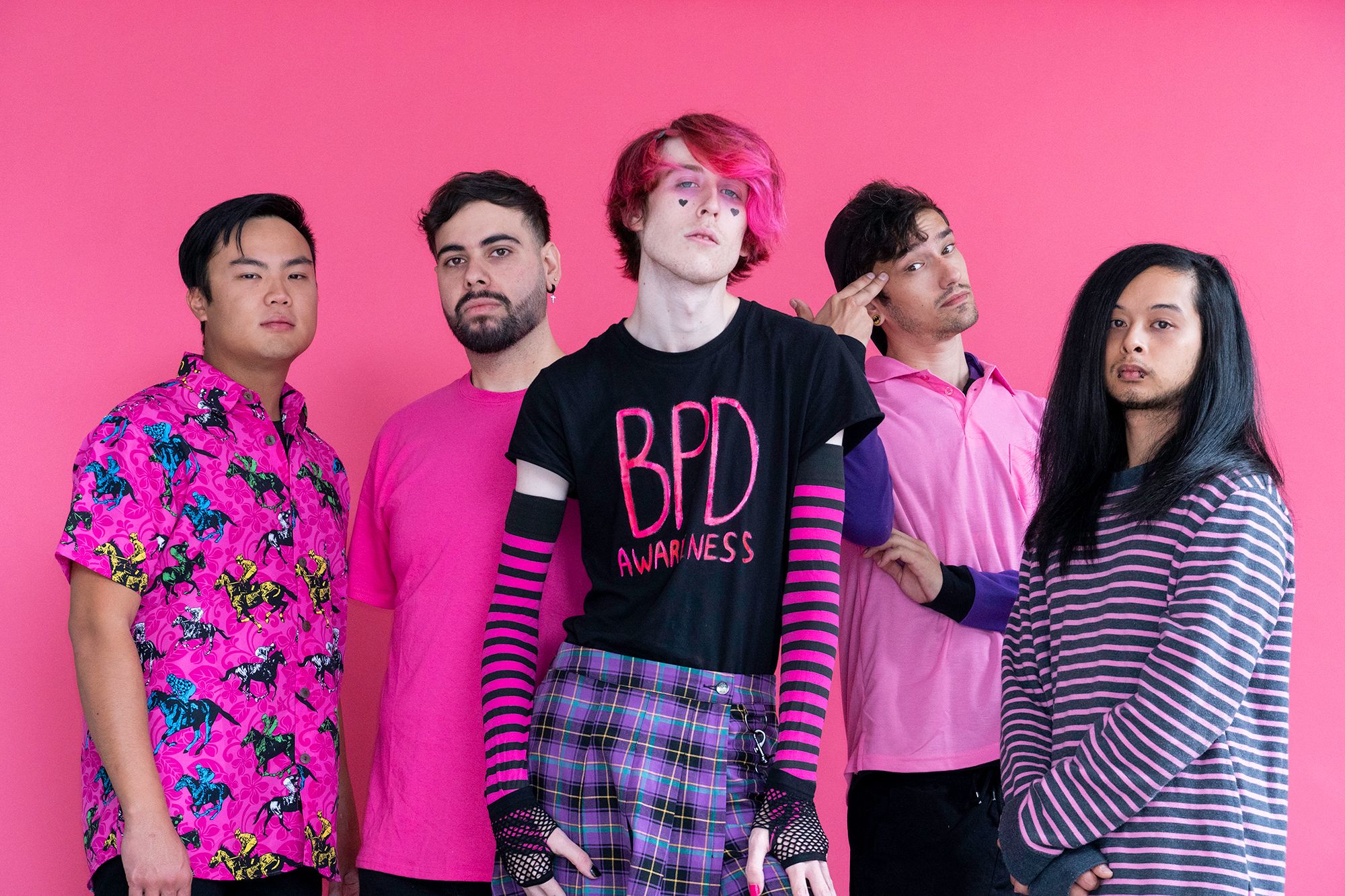 You guys opened The Wolfstone Park tour in Adelaide recently. 
Jesse:  Yes we were added on their last minute because they needed a local opener for the Adelaide show because capacity was increased. 
Gino: We had only just got a new drummer and bassist and it was only our second or third week rehearsing with them. We were like Boys we need to get this as tight as we can as quickly as possible!! 
Jesse: I think we had a month to get it all tight and done. But it went pretty good. 
Gino: Yeah it was good. 
I hate to say this, coming from Adelaide myself, but until Chris from Drastic Park mentioned you guys I hadn't heard of you. Who are Memory Castle? 
Jesse: Well I guess the genre of music we play is Emo/Pop Punk. 
Gino: With a bit of Pop Rock mixed into it. 
Jesse: Yeah kind of leaning more towards pop stuff in there, there's electronic elements as well. We are inspired by bands like early Panic at the Disco, The Killers and bands like that. 
Obviously that was your first gig with that line-up but have you been playing the local scene for a while? 
Gino: I joined late 2019 and you had been playing a year before I joined. 
Jesse: Yeah, so we have been gigging for maybe two years. 
You have a new single out, 'Burning Down'. It's a tune! 
Jesse: Thanks. Yeah I wrote that so I should probably explain it. I have Borderline Personality Disorder, so that is something that takes a lot on my relationships whether that be romantic or friendships or family, it can be a lot and a big struggle for a lot of people. It's about how you flip back and forth between these intense negative reactions as well as positive ones. That's what I wanted to get across in the song. That manic intense energy. 
It's good that you can put that into your music to get people to try and understand it, it's a really misunderstood disorder and I know that it is one that is difficult to diagnose. 
Jesse: I didn't get my diagnosis until about six months ago. That was after my first proper relationship, that was how I ended up getting the proper diagnosis. I had other diagnosis's previously like OCD and depression but I always knew there was something else, but often the diagnosis was wrong. I even had a Panic Disorder diagnosed once. A lot of things that are part of this but until I found out the right information I wasn't able to treat it properly. 
It's hard because a mis-diagnosis leads to the wrong medication which often inflames the BPD. I know people that are in there 30's before they get the right diagnosis. 
Jesse: Yeah I had that. I'm really grateful that I am only 23 and able to have that diagnosis. I know a few people that also have BPD that come to our shows. What I really appreciated growing up was bands like My Chemical Romance who promoted that mental health stuff, that is what got me realising that about myself and feeling comfortable with it. That is what I hope to be able to do for other people with our band. 
We had a chat about the Adelaide scene and how damn good it is at the moment with bands like: Wolf & Chain, Mum Thinks Blue, Sasha, Mums Favourites, Nocturnal Animals, NO NO  NO NO NO, Agapanther. 
Jesse: I think one of my favourite things is that there is a tonne of performance bands that are getting around now. Bands that have a lot of theatricality or a visual aesthetic which they are trying to push. That's pretty awesome. My brother is in Wolf & Chain and they are really awesome. And NO NO NO NO NO are awesome too, they put on a really good show. 
Gino: Agapanther as well. 
What do you guys listen too and get your influence from. 
Gino: I have written a few songs for the band that haven't been recorded yet. No matter how hard I try it always sounds a bit like Arctic Monkeys earlier stuff. I enjoy writing that sort of style, its fun. That's my kind of flavour and hot take when it comes to writing standpoint. 
Jesse: Generally I am the lead song writer, my main influences that I grew up with were a band called Say Anything, they are very alternative/ pop-punk/ emo. I really love the lyrics and how clever and slightly out there they are. There was more theatricality to it that was less the emo-dark, it almost had a humour to it. That is what I like to put into our stuff. Also bands like Paramore, that classic pop punk, upbeat and catchy stuff. 
Any other news that we need to know about? 
Gino: Our EP comes out soon. 
Jesse: Yeah that comes out around late August I think. We  don't have the official date yet and we have another single coming out before then in late June. 
Due to my tardiness in getting this up Memory Castles new single 'Money' will be out next Friday and their EP 'Pretty Monsters' drops on July 23rd. Hit up the bands SPOTIFY so you don't miss it.
FACEBOOK    INSTAGRAM    TRIPLE J UNEARTHED    APPLE MUSIC    YOUTUBE